The St Helens Borough Local Plan sets out the framework for the growth and development of the Borough.
It identifies how and where new development and regeneration should take place and thereby promotes
and manages the future development of the Borough.
It will also shape the investment plans of the Council, other public and voluntary organisations, and the private sector.
Click image to download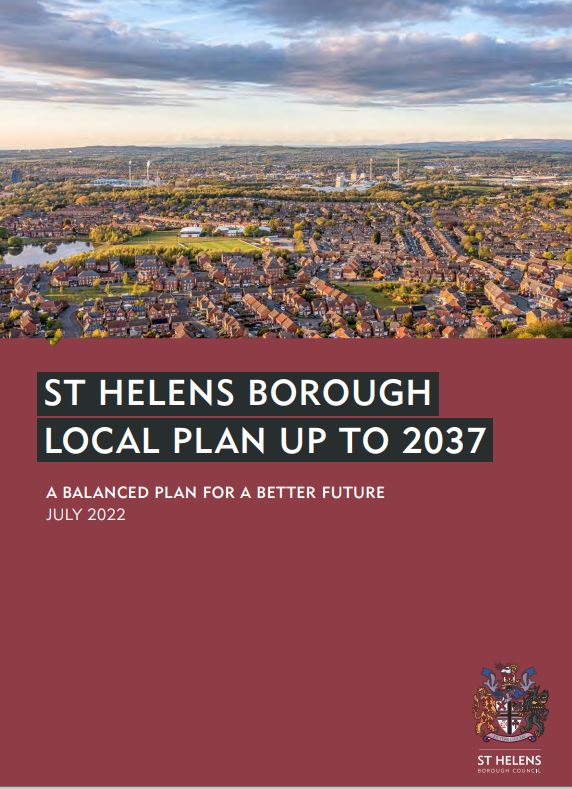 The Local Plan includes:

• the vision and objectives for the development of the Borough up to and beyond 2037;
• strategic policies guiding the amount, form and location of new development;
• site allocations for new housing, employment, and other forms of development; and
• local policies with additional requirements to guide the consideration of planning applications for new development, and details of where these will apply.
The Merseyside council has signed off its growth and development strategy for the borough in the years leading up to and beyond 2037 – including the release of Green Belt land to build a minimum of 10,206 homes by 2037, which equates to 486 a year and release Green Belt Land.
In order to accomplish this, the plan has opted to release from the Green Belt six sites with a total capacity of 2,114 homes.:
Land south of Billinge Road, east of Garswood Road and west of Smock Lane in Garswood
Land at Florida Farm, Slag Lane in Blackbrook
Land bounded by Reginald Road, Bold Road, Travers Entry, Gorsey Lane, and Crawford Street in Bold
Land south of Gartons Lane and former St Theresa's Social Club off Gartons Lane in Bold
Land west of the A49 Mill Lane and to the east of the West Coast Mainline railway line in Newton-le-Willows
Land south of Higher Lane and east of Rookery Lane in Rainford
To help provide more employment sites, the local plan includes the allocation of 526 acres for this kind of development. Of those 526 acres, the vast majority comprise Green Belt release
The sites to be released for industrial use are described in the local plan as
Omega South Western Extension, 77 acres of land north of Finches Plantation in Bold
5 acres of land south of Penny Lane in Haydock
19 acres of land west of Haydock Industrial Estate in Haydock
51 acres of land west of Millfield Lane, south of Liverpool Road and north of Clipsley Brook in Haydock
160 acres for Parkside East in Newton-le-Willows
197 acres for Parkside West in Newton-le-Willows