The UK economy recorded its largest annual drop in GDP on record over the recent months, however, throughout the lockdown period and economic turbulence, the industrial sector has shown its resilience in both the investment and occupational markets.
At a UK Level industrial property research figures showed the best half year figures on record.
38% up on 2019 & 66% up on the long term average for units over 100,000 sqft.
This positive trend has continued post lockdown with take-up now surpassing the previous best year, 2018, with a further 3 months of the year reaming.
This is mirrored locally in the North West where occupier demand remains strong and the market fundamentals driving the industrial and logistics sector continue to move forward.
Half year figures for the North West show take-up at 2.64 million sqft in 12 deals against a long term average of just under 4 million sqft per annum.
This is up 128% on last year (albeit demand was suppressed by Brexit & elections uncertainty) but we are on track to better 2018, a record breaking year which saw take up at over 5m sqft.
Since the half year take up has continued with notable deals in the North West Region to:
| | | | |
| --- | --- | --- | --- |
| Scheme | Sqft | Developer | Tenant |
| Mountpark, OmegaWarrington | 307,000 | Mountpark | Gusto |
| Mountpark, OmegaWarrington | 185,000 | Mountpark | Jungheinrich |
| Carrington Gateway | 104,000 | Himor | Hilti |
| PLP Crewe | 135,000 | PLP | Brightstar |
| Aviator, Ellesmere Port | 125,000 | Redsun | Survitec |
| Stonecross 72, Golborne | 72,740 | Owenwood/Stoford | Globus Group |
Multi let industrial also continues to perform well highlighted by a series of deals across the North West region with  Mere Grange, St Helens worthy of note where Network space have secured a series of recent occupier deals including Wayfair taking 21ksqft @ £6.50 /sqft, a pre cursor to the subsequent investment sale of the whole scheme(162,000 sqft) to Infrared Urban Logistics Income Fund scheme for   £17.6 m (5.5%).
Speculative development also continues with 18 schemes and over 1m sqft under construction in schemes by Chancerygate, Redsun, Network Space, Patrizia & Himor.
Prime rents for new units are now established at £7 – £7.50 per sqft and second hand rents in prime locations are now in excess of £6.50 per sq ft, the equivalent rent to new build rents 5 years ago! 
Whether the surge for industrial continues will be shown over the coming period but the sector is well placed to capitalise on its time 'in the sun' driven substantially, but not exclusive by the exponential growth of e-commerce.
See Anthony O'Keefe discuss these points with Weightmans Clive Bleasdale: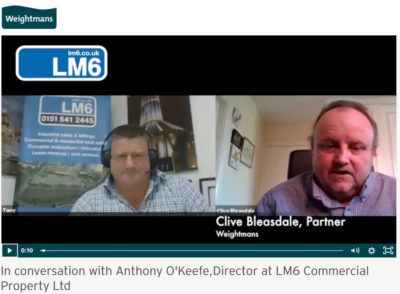 Advice during Covid – 19
We know the current pandemic presents unique challenges for business and real estate issues for both landlords, owner occupiers and tenants.

In these testing times we can help so please contact us to discuss – this may include releasing capital through sale and leasebacks or lease dicussions.

.